Discover more from BROKEN ENGLISH Victor Santos' Newsletter
I write and draw stories, and write about making stories
The Kaiser has come!

---

WELCOME TO THE DAMOCLES AGENCY!

Finally I saw the movie!! But the problem is…Well, in short, a bunch of guys with black suits and tattoed Red Ns of Netflix cornered me in the restroom of the theatre and told me:
"If you say too much we´ll cut your balls off"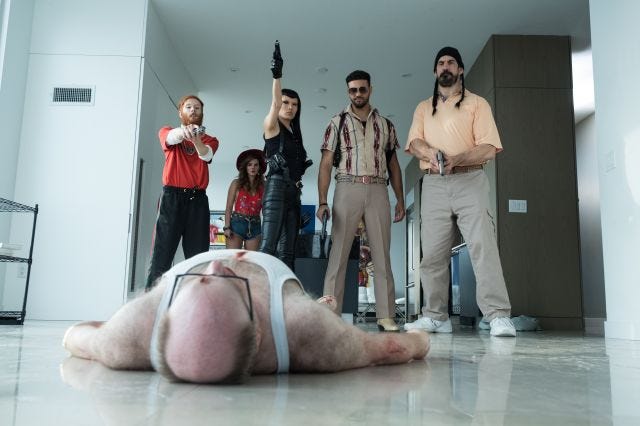 CAME FROM THE COLD

But here are things I can say:

Since the beginning, my purpose with the Polar series was to expand the tools and resources that make comics funny, and I wanted the same for the movie. And Jonas Åckerlund surpassed my expectations. He plays skilfuly with the language he knows well. The pacing and images are calm and cold and quiet when the story needs… And the whole thing goes crazy and colorful when madness and violence appears.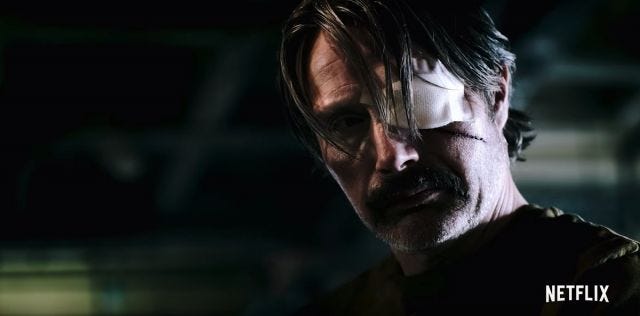 It´s a very brave movie.
It has an exploitation vibe sometimes. Violence and sex are unnecessary savage, rough and exhibitionist… and that is AWESOME. It could have been softer but as Jonas said "We put the speakers to 11". You have not seen a movie like this for years, this is not a PG-13. It´s a Hard R with a Vengeance.
All the cast is amazing, Mads is an awesome Kaiser and Katheryn Winnick and Matt Lucas as the bad guys nail it. But I want to highlight Vanessa Hudgens. When she signed, I had very few references… Maybe only Spring Breakers. My little cousin was a fan of High School Musical but well… This was not my thing. And she´s amazing.
People can laugh and enjoy the carnage and the dark humor, but she´s the inner heart of the movie and her performance is heartbreaking.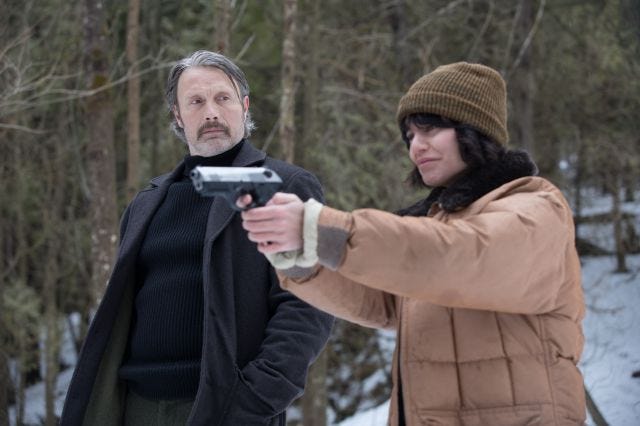 THE NIGHT OF THE PREMIERE
MONDAY 21TH:

I arrived to Barcelona at the morning and before the lunch I attended two interviews for newspapers. I had made some photoshoots, but never so often.  
Norma editorial (the publisher of Polar in Spain) and Netflix Spain arranged a Premiere in Barcelona. The place was the Phenomena, a wonderful old fashioned style movie theater. You can feel the love for cinema only entering in the hall. Classic decoration, posters, big screen and big room, wonderful sound.
Watching the movie there was terrific.
I recorded some clips for the Netflix promotion before the session, chatting about the movie and drawing some characters of Polar and Netflix.
Later, I made a little presentation to the crowd with the usual acknowledges and asked for "no spoilers in your social media" behaviour. Not sure if they ignored me…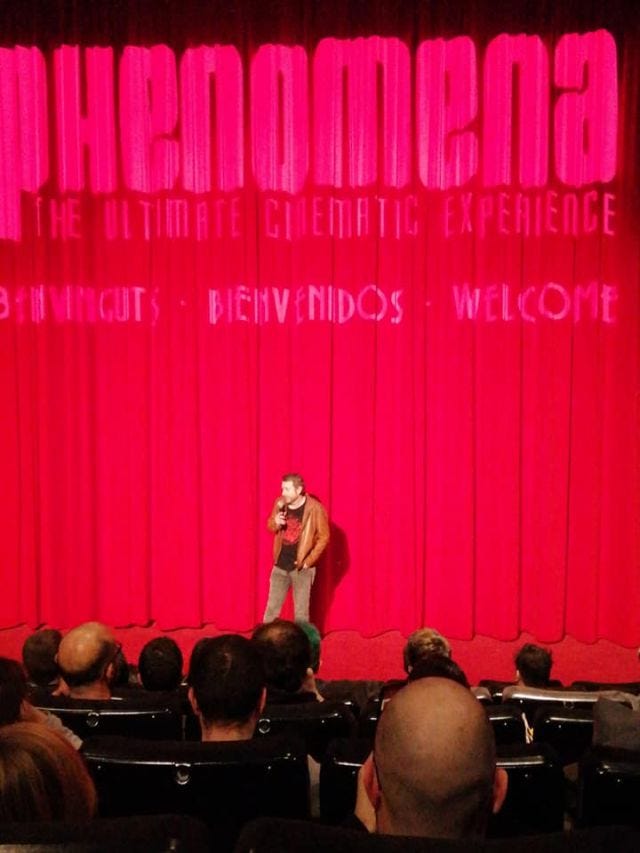 But they couldn´t ignore the Black Kaiser.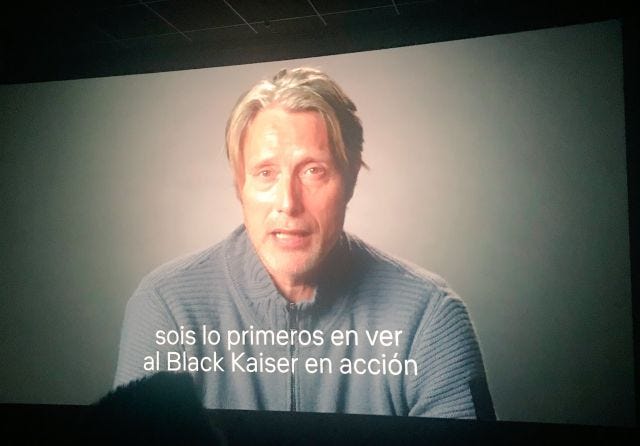 The place was crowded: Fans of movies, fans of Mads and fans of the books, press, friends (some of them comic authors too) and my wife and my parents… We had a great time and I think people really enjoyed the movie. They laughed with the dark humor moments and they applauded in the most violent scenes. I´m not sure how the audiences of other countries will accept these crude jokes and extreme violence but I found it cathartic and epic.

Note: Maybe watching some sex scenes with my parents was… Well, I´m sure you guys have watched Game of Thrones with your parents sometimes… But you´re not partially responsible of that! The good part is the beautiful Ruby O´Fee now has a new fan in my dad.
I signed some books later.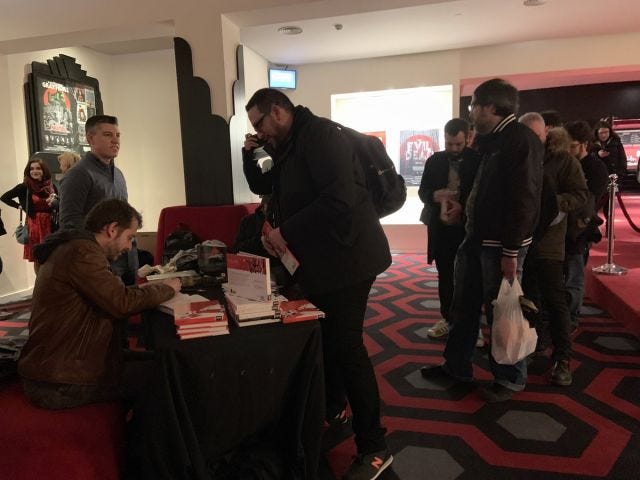 I was chatting and drinking with my buddies at night and we really loved the final result. My worst fear was the movie was too much generic and soft and I really asked for something original. And I got this, so I went to bed happy.

TUESDAY 22TH:

I spend all the Tuesday morning with interviews to press and radio. Answering similar questions can be boring but it´s refreshing (and important) when you break the walls of the specialiced press. You open a big door to a lot of new readers.
And signed more books for Norma.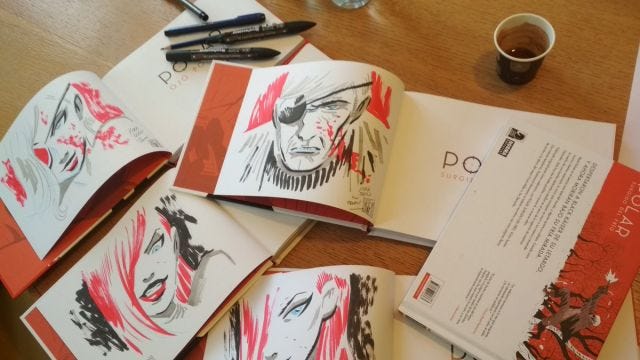 And we returned to home at the evening, really satisfied.
 
SOME LINKS YOU COULD FIND INTERESTING…

BUILD series made a really cool interview to Mads & Jonas
https://www.youtube.com/watch?v=yjyoY5aaWQk

A couple of Interviews in SyFy Wire (they made one to me, coming soon) where Mads says a lot of interesting things about the character and the filming.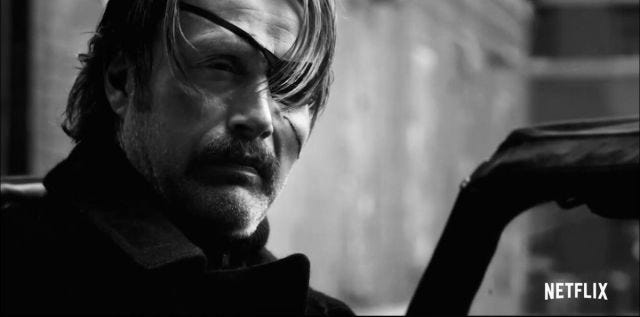 "In Netflix's Polar, Mads Mikkelsen gets ultraviolent because he doesn't care about age"
https://www.syfy.com/syfywire/in-netflixs-polar-mads-mikkelsen-gets-ultraviolent-because-he-doesnt-care-about-age?fbclid=IwAR2uU90g3-DFT6lnYnVlmZ1cbNl3g2J8LMjgGuKsdocaYUiRwJPWOCcGLME

"Polar star Mads Mikkelsen says being tortured was 'brutal,' much less fun than Hannibal"
https://www.syfy.com/syfywire/mads-mikkelsen-polar-netflix-interview
 
And I found an interesting review of the first Polar book in Adventures in poor taste, where Chris Coplan thinks about the movie adaptations and the translation webcomic>book>movie and their challenges.
http://www.adventuresinpoortaste.com/2019/01/22/polar-vol-1-came-from-the-cold-review-blood-guts-and-insights-galore/
 
More next week! (I hope)
With spoilers or free spoilers? I don´t know yet.
Enjoy the movie!