Discover more from BROKEN ENGLISH Victor Santos' Newsletter
I write and draw stories, and write about making stories
The Inktober is here

---

WELCOME AGAIN AND HOLA ARGENTINA

Next week I´ll attend the Crack Bang Boom convention in Rosario, Argentina. It´s a wonderful event arranged by the great artist Eduardo Risso. I´m pretty excited and thankful of being part of the line-up of guest authors.




INKTOBER IS HERE

A lot of people asked me about the Inktober of this year. I finally decided to open a bigcartel store, so be aware from tomorrow. Why bigcartel this time? I had a couple of bad experiences using tictail last year (mainly the site sold the same item to two different persons and it was embarrassing, luckily I could fix it and compensate to the client). If all works OK maybe I´ll continue with the store open and I will use it to sell art, signed books, prints and that stuff. Let´s see...

The theme of this year will be an "age" instead an "author" like the previous years (Kirby, Ditko).
And the common subject will be the glorious age of the 90S IN THE US MAINSTREAM COMIC-BOOKS. Welcome to an age of impossible anatomies, big guns, bad-ass attitudes... The grim & gritty… An extreme age...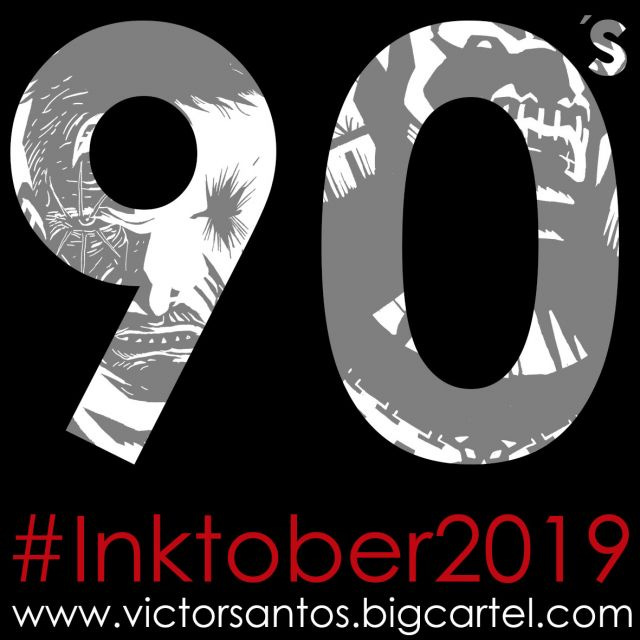 Maybe it sounds silly but it was an important time to me because I returned to US comic-books just then, after years reading only manga, thanks to the Image comics, the Xmen animation series and Joe Madureira art. Surely it wasn´t the best time for a newcomer… But we can find interesting things there and I will try to re-imagine these characters with my own style. It´s not a ranking or a selection, simply I´ll draw the characters I want because I think they are cool, or because I have some special link with them (for good or for bad)
You can buy the original art of my Inktober here:
https://victorsantos.bigcartel.com/




This was a quick newsletter, I have a lot of things to do before my travel to Argentina. I´ll tell you more when I return!

Best
Victor
 
---
Copyright © 2019 Victor Santos. All rights reserved.

FIND ME IN MY SOCIAL NETWORK:
victorsantoscomics.com
My official Facebook page and my personal Facebook page
My Twitter / My Instagram /  My Tumblr
The BROKEN ENGLISH archives

FREE WEBCOMICS!
http://www.polarcomic.com/

FIND MY STUFF
My Amazon page /  My Random House page

ORIGINAL ART:
BigCartel store
Galerie Glénat (Paris)
Soming art (USA)