Discover more from BROKEN ENGLISH Victor Santos' Newsletter
I write and draw stories, and write about making stories
The Fight continues

---

WELCOME!

REGARDS FROM BARCELONA

Just returned from the Barcelona Comic convention. Althought this kind of big cons (and Barcelona is the biggest con in Spain) are almost rutine work, I´m always enjoy chatting with the readers and meeting good artist friends (sometimes really briefly). Norma editorial reprinted the Polar: Came from the Cold volume (sold out in Spain) using the Dark Horse new print of the book. The answer of fans and attendees was great, and a lot of people bought a book made by me for first time. That´s the greatest thing of the movie adaptations.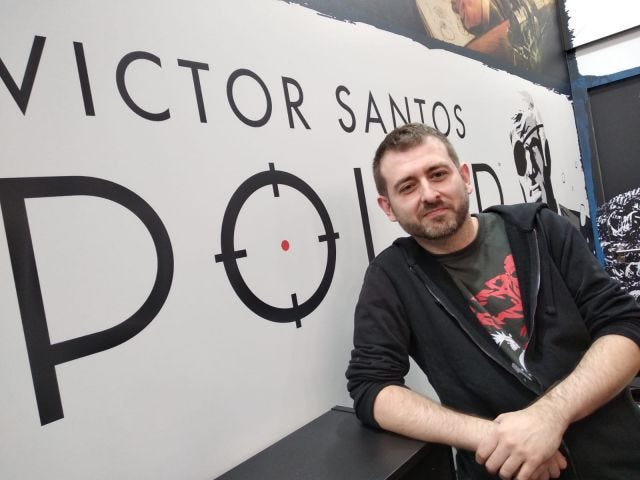 FIGHT

Yesterday I published a single page mute story in the Catalan ARA newspaper, in its section "Gráfica Radiante". It´s a purpose (I don´t remember if it´s monthly, weekly…) where a guest artist draws a story without words, only images. Well, this was my shit and I really enjoyed it.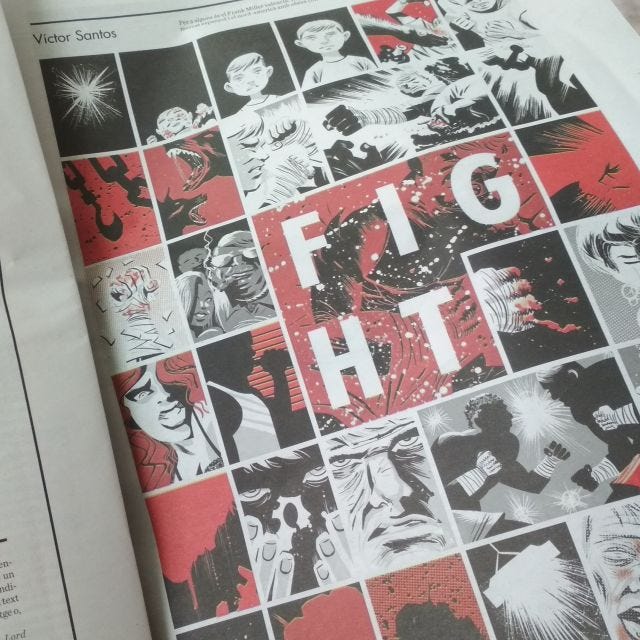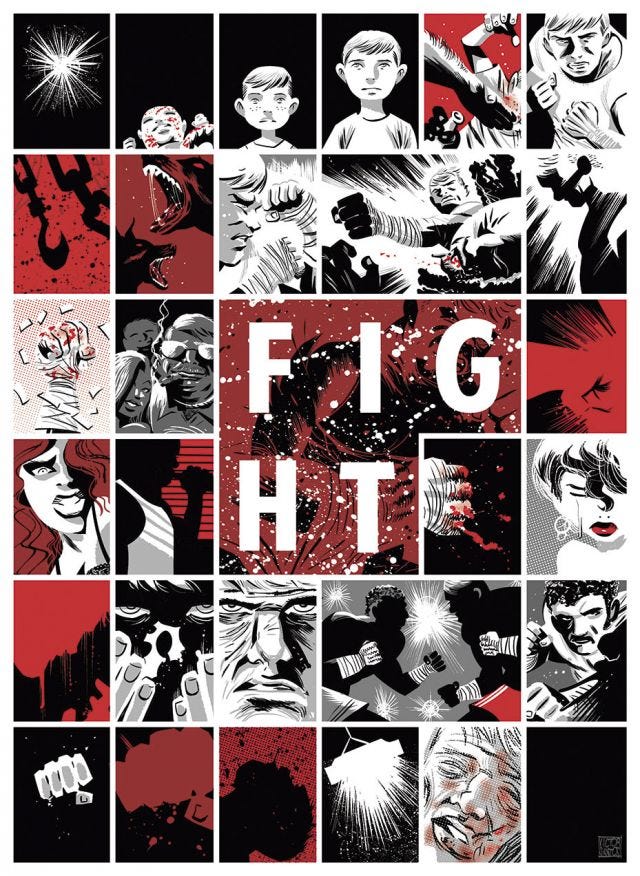 THE KAISER FALLS

The last chapter of the Black Kaiser saga is on the American stores shelves (and virtually in Amazon, Bookdepository and all these platforms). As I told several times, The Kaiser falls is my tribute to the "twilight hero" stories like Gran Torino, Unforgiven, The Dark Knight returns or Old man Logan.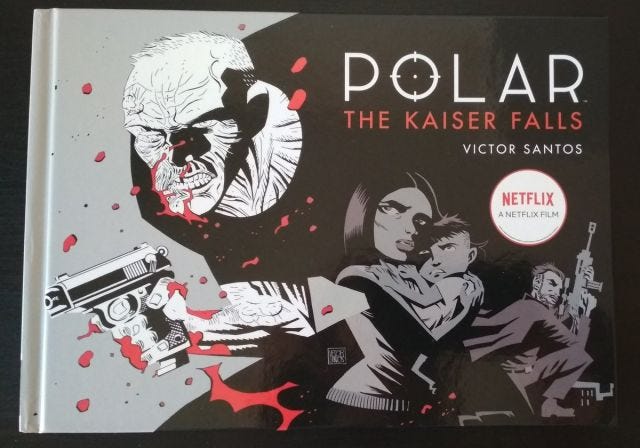 I tried to return to the simplicity of the first Polar chapter after the orgy of action, basic colors and characters of the third chapter No mercy for sister Maria, closer to a Battle Royale of killers or the epic of some Spaghetti westerns. This is a story of a single bitter old man against a lot of bad guys.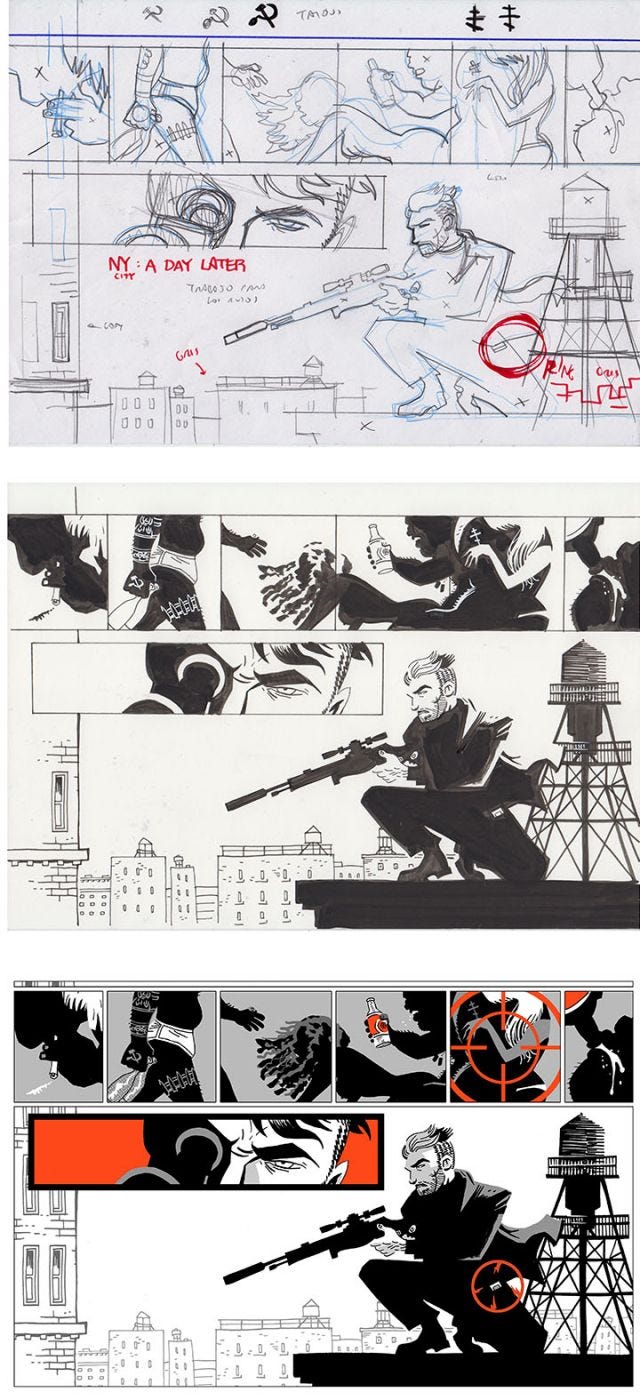 https://www.darkhorse.com/Blog/2798/nycc-2018-victor-santos-delivers-epic-finale-his-p
http://www.comicon.com/2018/10/07/nycc2018-two-new-polar-graphic-novels-coming-in-2019/
http://www.multiversitycomics.com/news/dark-horse-final-volume-polar/
 
I hope you enjoy it and if you want to do a review for your website, write me to victorsantoscontac@gmail.com and I´ll try to send you a pdf version asap.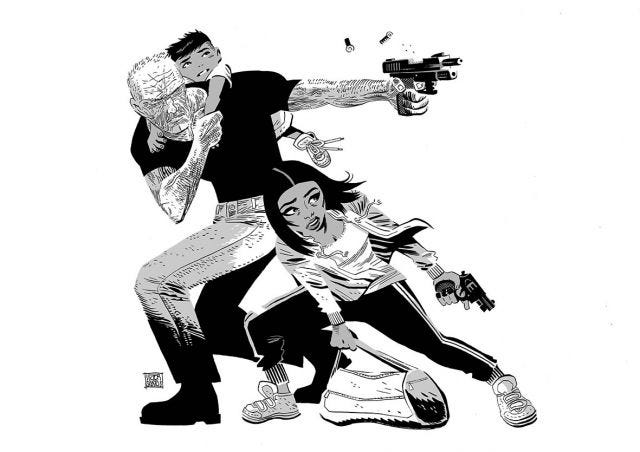 I could consider this past weekend "workdays" and would love to take the day off today… But I have a lot of work to do. Show must go on!
 
---
Copyright © 2019 Victor Santos. All rights reserved.

FIND ME IN MY SOCIAL NETWORK:
victorsantoscomics.com
My official Facebook page and my personal Facebook page
My Twitter / My Instagram /  My Tumblr
The BROKEN ENGLISH archives

FREE WEBCOMICS!
http://www.polarcomic.com/

FIND MY STUFF
My Amazon page /  My Random House page

ORIGINAL ART:
Galerie Glénat (Paris)
Soming art (USA)