Discover more from BROKEN ENGLISH Victor Santos' Newsletter
I write and draw stories, and write about making stories
Spam for samurais and space mercs

---

WELCOME TO MY NEWSLETTER!

The newsletter in its summer edition! This is the same than the current edition, but working with more heat inside my studio. Let's go...

A MYTH CALLED KUROSAWA

I have been talking a lot about the book lately, but I wanted to share more stuff of it.
Kurosawa: El samurai caído (The fallen Samurai) was finally published in Spain after a delay because of the Covid19 outbreaks. This is a book done for Norma editorial, the Spanish publisher of all my latest works in USA (Polar, Violent Love and Bad Girls). I made with them the Rashomon graphic novel (published later in USA by Dark Horse) so we have a really close relationship.

This is was very special project because this is my first biographical book. My goal was to reach a wider audience and a different corner in the stores (even my usual readers and friend stores are supporting the book a lot).
But you know I like playing with the storytelling and I didn´t want to tell the usual fact-by-fact biography. I have a special care for the figure and works of this cinema genius and I wanted a more "warm" approach.
I explained some things about the process in a previous newsletter, but as a reminder and for new subscribers...

The story is told using different timelines:

The usual biographical information, speaking about his life facts and travelling across his cinematographic successes and failures.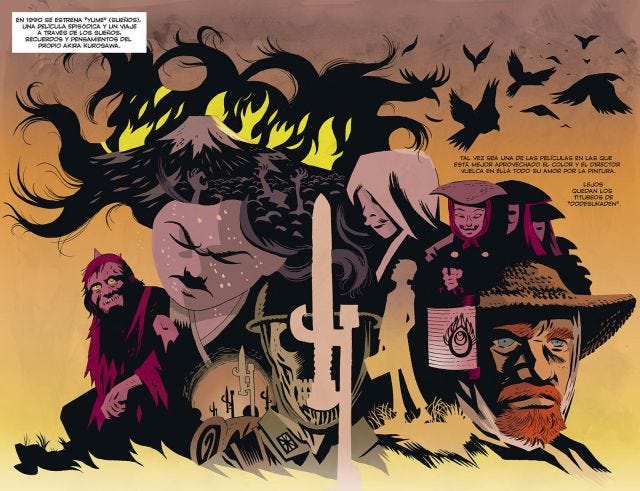 An imaginary story where on old Akira, at the gates of death, have a conversation with his deceased brother Heigo. This part is a reflection about the fears and aspirations of the artistic personality, but it's highly based on Kurosawa's declarations and thoughts.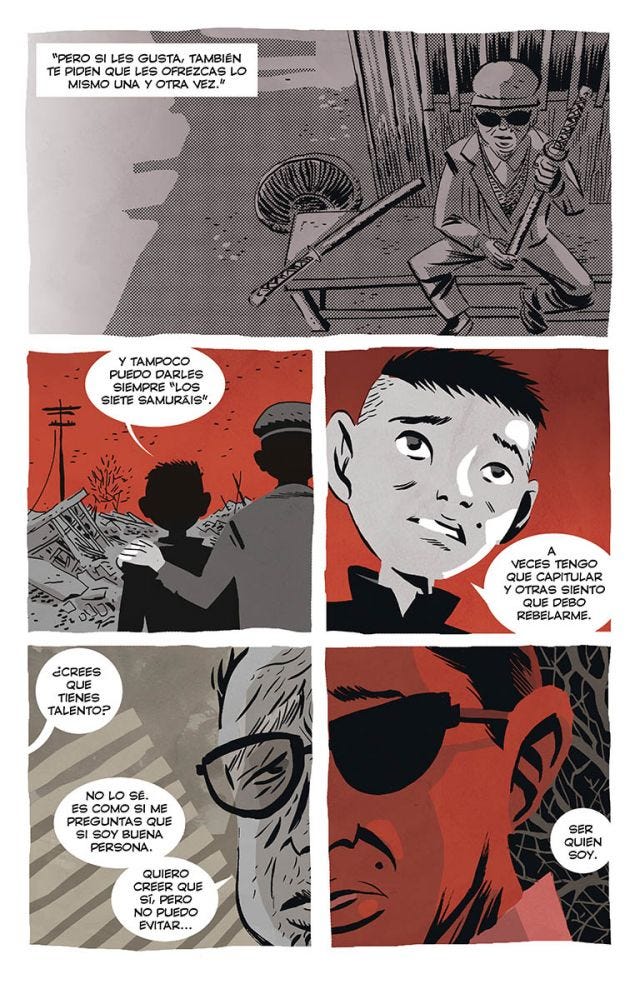 And finally little inserts where I tell directly to the reader my personal impressions and thoughts about the master.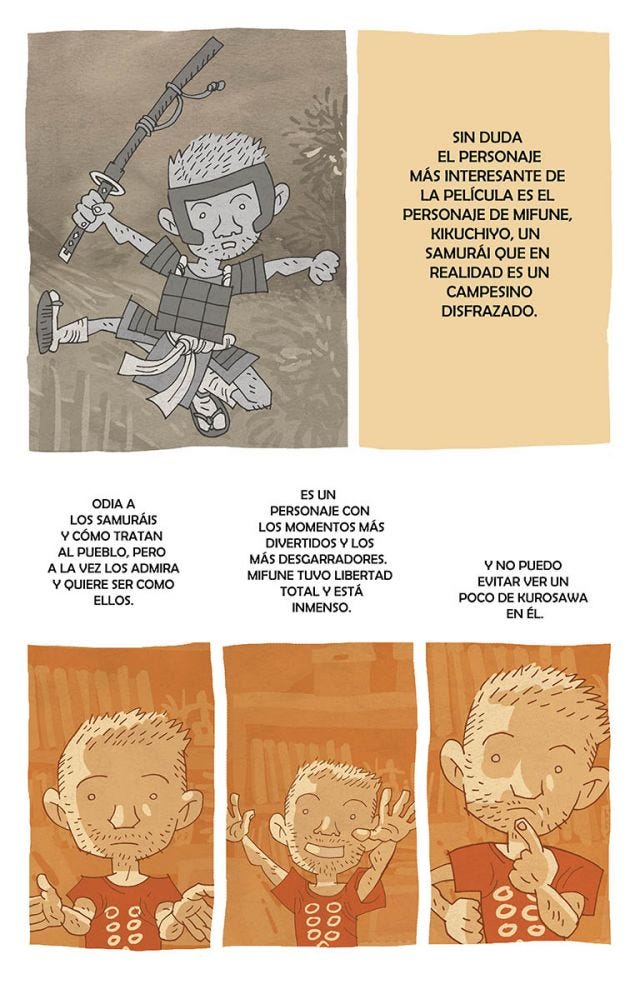 A lot of people asked me about a future English language edition. Obviously, this is the plan of the publisher and mine. This kind of works only can survive with the sales of rights to foreign countries (and I have my own plans for future biographies of movie directors). We hope to get editions in English, French and more languages very soon. Let's cross fingers!

 
INFINITY: BETRAYAL

A new Infinity graphic novel was announced recently and it will be released at the end of this month. The first book I made with Corvus Belli, the wargames company, was published in 2016. The title was Infinity: Outrage and the artist was Kenny Ruiz. Because of his highly influenced-by-manga art and storytelling we made a Kanzenhan book in the style of the Japanese compilations.
This time the artist is the Argentinian artist Agustin Graham Nakamura, with a strong influence from Manga and Anime too (we are the Manga Boom Generation, guys) but our approach here were closer to a graphic novel. So we have Infinity: The Manga and coming soon Infinity: The Graphic Novel.
Should we do an oversized European album next time? Who knows…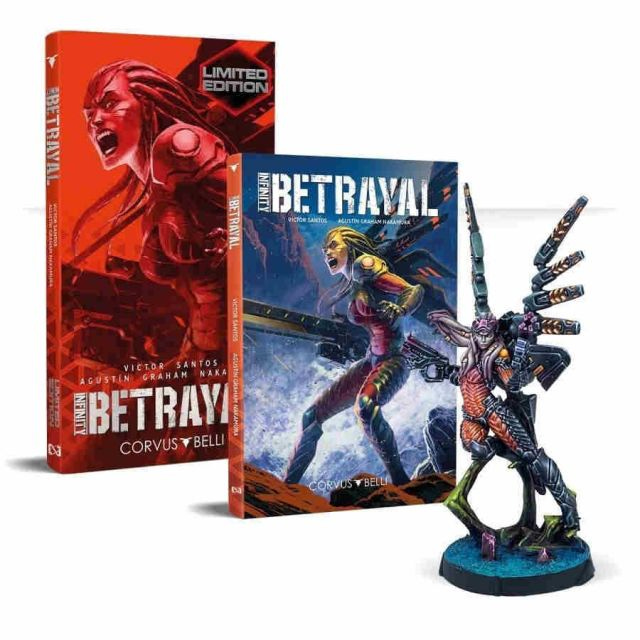 Anyway, working again with the people of Corvus Belli was a pleasure. This universe is their playground but they let me play inside, even twisting their rules a little . They never said me "You cannot do this". They helped me to fit my story inside their world. And I'm sure a lot of people working with big franchises cannot say this.
Like the first book, Infinity: Betrayal will be internationally released in two editions: Spanish and English and two versions, current and limited (with an exclusive figure).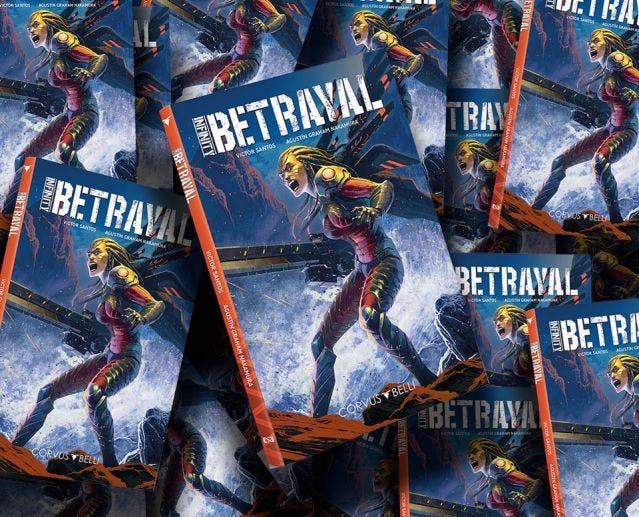 Here is the link to the official graphic novel site, where you can find a lot of info and a preview in Spanish and English:
https://infinitytheuniverse.com/es/editorial/betrayal
And the site of my previous book with them, Infinity:Outrage
https://infinitythegame.com/outrage


COMMISSIONS

I have been doing a lot of commission stuff lately, and I want to thank to the clients for their support during the confinement. Some of my favorite ones for no special reason (even I try to do my best in every drawing)
(Some samples, price guides and sizes here)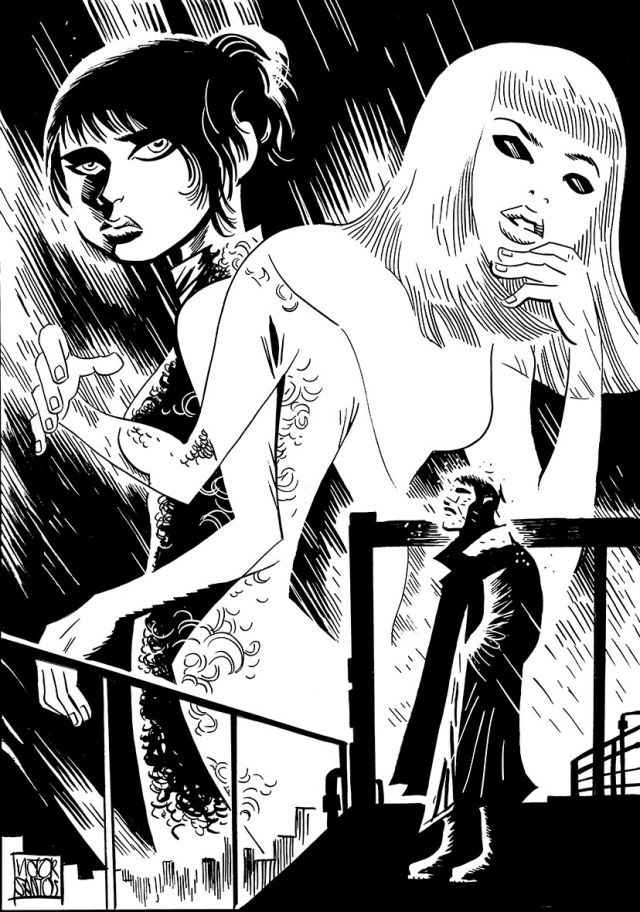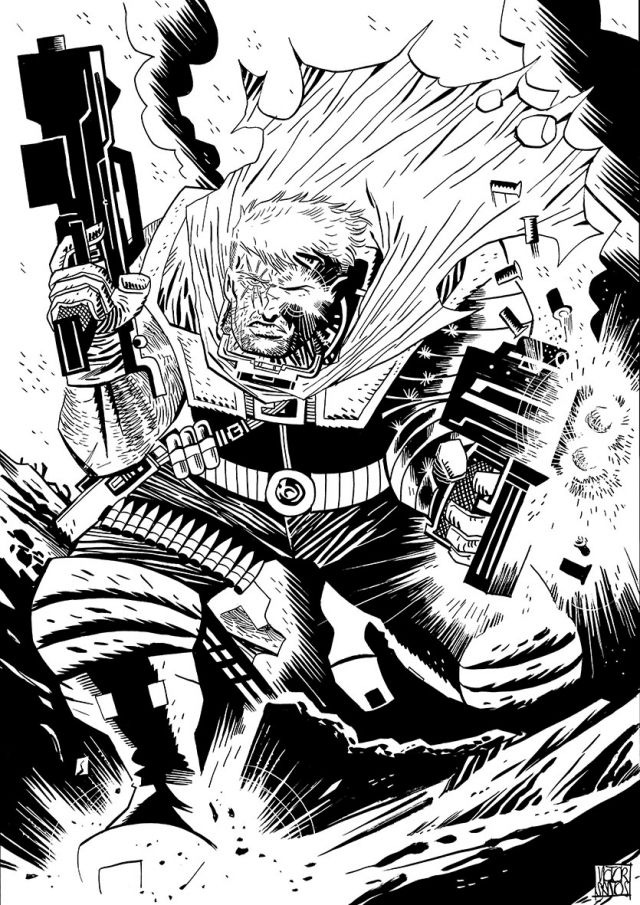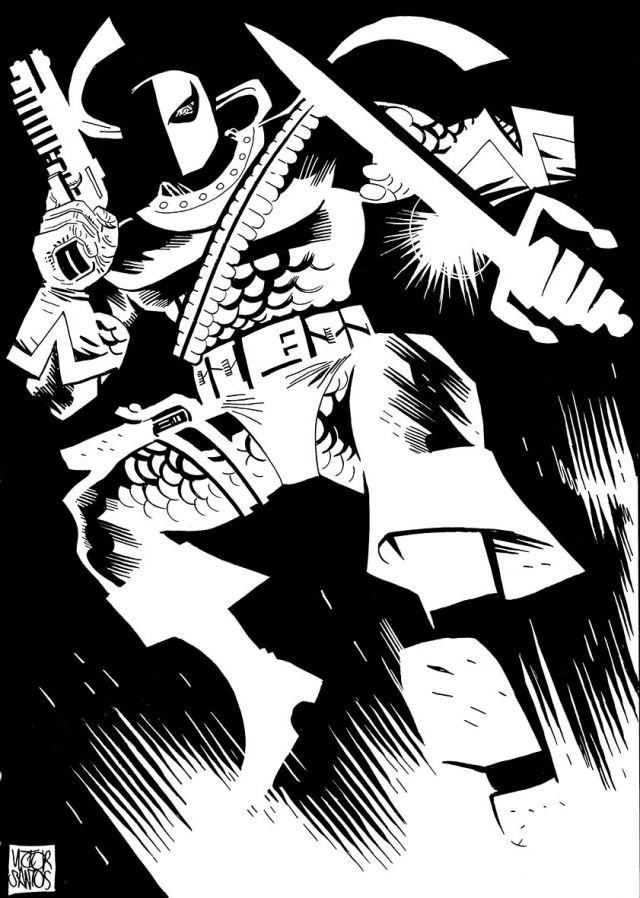 See you in the next newsletter! Meanwhile you can find me in all the links below. Sometimes I have time to answer, sometimes I don´t see it or simply I forget it, so my apologies!
I promise I will not make more spam of my Kuroswasa book in the next newstletter.
Take care and stay safe.
Victor


---
Copyright © 2020 Victor Santos. All rights reserved.

FIND ME IN MY SOCIAL NETWORK:
victorsantoscomics.com
My official Facebook page and my personal Facebook page
My Twitter / My Instagram /  My Tumblr
The BROKEN ENGLISH archives

FREE WEBCOMICS!
http://www.polarcomic.com/

FIND MY STUFF
My Amazon page /  My Random House page

ORIGINAL ART:
BigCartel store
Galerie Glénat (Paris)
Soming art (USA)