Discover more from BROKEN ENGLISH Victor Santos' Newsletter
I write and draw stories, and write about making stories
Safe places, color choices
TODAY IS A NEWSLETTER DAY

I am in writer mode these days, working on the plot of a script assignment and writting the dialogues of a new graphic novel I´m drawing.

MY SAFE INTERNET PLACE

Guts has been my new online comic after Polar. I used the same platform but with in a new story without links with the Polar universe. Guts inspiration comes from "survival" and horror genres and it has common points with Polar but there are some differences too. It has been also conceived as a mute action story but with a different graphic look and a new structure: Guts was updated with complete chapters of variable length instead the two pages every week.
The chapter of this month was the last, simply I think I developed the premise as I could. And it´s fine. I drew 10 issues/chapters… A total of 81 pages. Now I´m thinking what I´m going to do with this stuff. I want to do a printed edition but the amount of pages is not enough. I have an idea with this story as part of something bigger. I need to develop it, let´s see what it happens.
Anyway, it´s great to have a place in the net where I can test things. I love my www.polarcomic.com den aside to my daily comics job.
Now you can show your work, you can build a base of fans without cost. If you are tired of your daily work and you want simply draw and show your shit, you don´t need publishers, digital prints or a market survey for your ideas. Simply show it and build to something profitable from there. Or just have fun.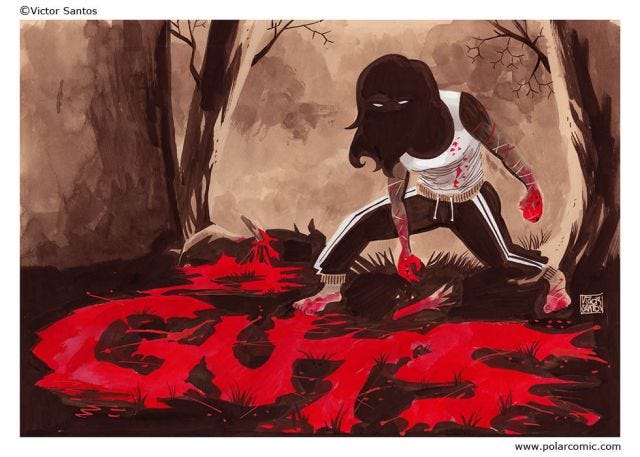 YESTERDAY was the Batman Day and I drew this Bats. Love the pulpy first version.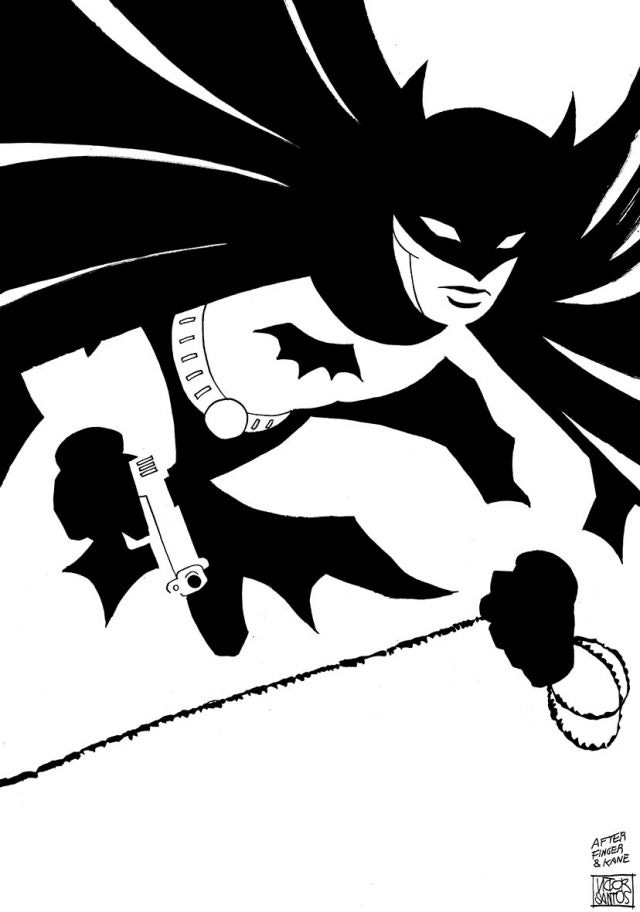 COLOR CHOICES

Do you know the director Jeremy Saulnier? He wrote and directed Blue Ruin (2013) and Green Room (2015) amongst others. But I love how these two films are connected thanks to a chromatic choice. They don´t share universe, characters or even genre. Their link is the use of a predominat color palette. I would like to do something alike with some of my graphic novels. No story or character connection, just an artistic choice, a format or the evolution of an approach.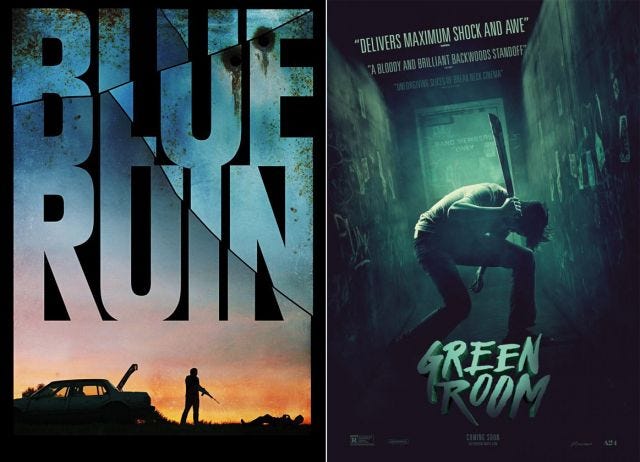 Back to the Word program, missing my pens. See you.
 
---
Copyright © 2018 Victor Santos. All rights reserved.

FIND ME IN MY SOCIAL NETWORK:
victorsantoscomics.com
My official Facebook page and my personal Facebook page
My Twitter / My Instagram /  My Tumblr
The BROKEN ENGLISH archives

FREE WEBCOMICS!
http://www.polarcomic.com/

FIND MY STUFF
My Amazon page /  My Random House page

ORIGINAL ART:
Galerie Glénat (Paris)
Soming art (USA)