Discover more from BROKEN ENGLISH Victor Santos' Newsletter
I write and draw stories, and write about making stories
Pitches, treatments and stories

---

WELCOME TO THE NOVEMBER EDITION OF MY NEWSLETTER!

Here we are, at the gates of another confinement in Spain... I made a lot of new stuff during the first one I'm trying to sell right now... I don´t know if the world is prepared for a new peak of Victor Santos' production.


DKTOBER FINISHED
 
Thank you for following my posts during the month and sorry to the people who couldn't get one of my original drawings.
If you want to see all my drawings of this 2020 edition and the editions of previous years you can find them in my blog/site:
https://victorsantoscomics.blogspot.com/search/label/inktober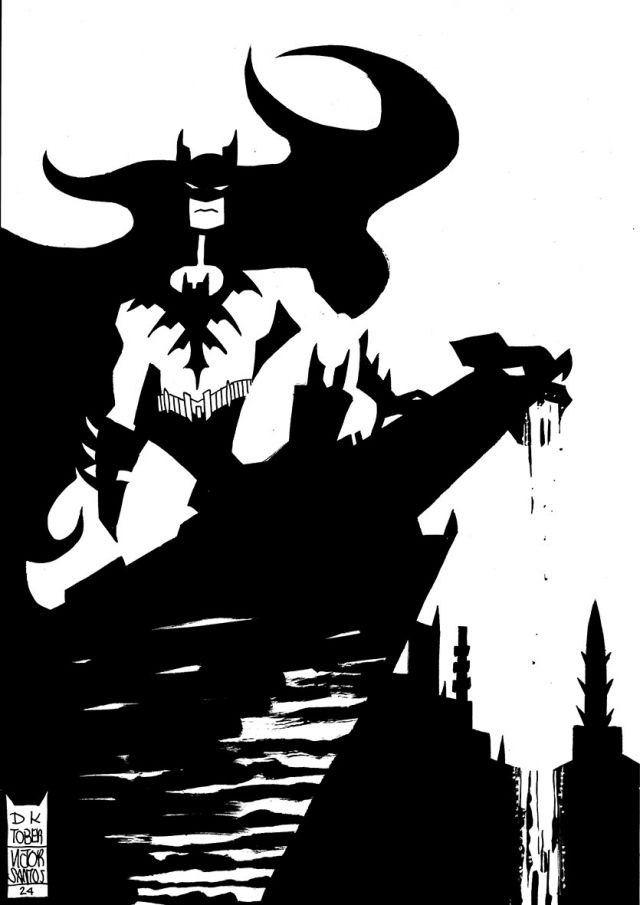 THE OEMING/SANTOS PROJECT

I think we both talk about this project in different interviews … Just finished the last pages of a graphic novel I have been doing with my buddy Mike Oeming (Powers) since more than a year. It's something special because we both draw in the book (I draw more pages than Mike) and we both write (but definitely the weight of the writing is more on Mike, I basically added ideas and concepts). It's not 50/50 story and art but the process has been different to others previous works, and this is only possible because we have experience as complete authors and, of course, we're good friends.




Now we need to fix a lot of little details, and a lot of editing work but the hardest part of the process, this is making the damned book, is done.
More news coming soon. I think Mike never said the title of the book so I'll keep my mouth zipped for the moment.
 
 
THINGS I HAVE BEEN WORKING ON LATELY
 
Since the beginning of this crazy year I have been doing my own stuff and my own projects. Along with the "Oeming/Santos Project" and the first issue (of 40 pages) of a miniseries I began with my pal Frank Barbiere, I almost have finished a couple of short graphic novels in spec.
 
I have written a lot… I pitched a lot of ideas. Every time I have an idea (sometimes it's a couple of sentences, sometimes is a character with a cool name) I open a file in my "projects in development folder" where I save a lot of projects in different stages of development. The process is: I create the subfolder with the pertinent working title and save unfinished pitches, loose descriptions, rough designs and researched images or documents. And I let all this stuff tenderise… Because someday you will have that chance, or an editor who wants to work with you and ask you for ideas or now it's the right time for that kind of story or simply you need to work on something of that genre…
In that magical chest I have a first draft of a whodunit script set in Japan, a pitch of a new "Martial Arts Female Revenge" story, a hazy pitch of Dark Fantasy in the vibe of the Stephen King's The Talisman novel… And surely a lot more that I can't remember.
But the important thing is writing, even for the simple joy of letting your mind fly in those early sweet moments of the birth of a potential story.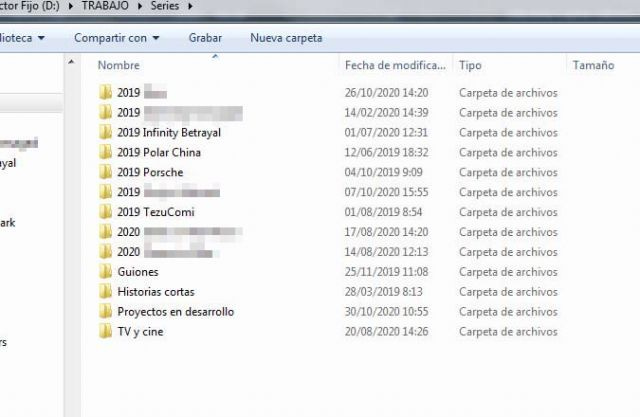 Speaking about writing, during this year some Spanish and foreign movie/TV producers interested in the potential of my books and my writing skills contacted me with different results. Some opportunities of different kinds arose.
I worked on a TV miniseries treatment with a professional screenwriter based on a pitch for a graphic novel I wrote some years ago. We worked together in the first development of the concept. Honestly, he wrote a lot more than me but I helped and added when I could and drew some cool images for the dossier. This project is a little frozen right now but who knows? I think the document is really solid and some broadcasts will show interest in it soon.
I have also been collaborating in a TV project I think will be announced soon. It's more an independent production than a streaming monster like Polar, but the good part of this kind of project is that you can be more involved in the early development.
Even if none of these initiatives materialise into a real show, I'm learning a lot from this experience… And even though I did dare begin to write my own treatments/pitches
I think it's a good and fine exercise for my creative mind, and if I don´t get the interest of any producer… Well, I can use some of this stuff for my future comics and graphic novels (or don't you know that the Frank Miller's Daredevil Man without fear comic was originally a TV show script?).


ART ON SALE

Taki Soma has been rebuilding the website where I sell some the original art from Mice Templar, Sleepy Hollow and other of my American series, changing it up and adding more art.
Take a look, I'm really proud of some of these pieces (and this is very rare on me)   https://michaelavonoeming.com/collections/original-art-of-victor-santos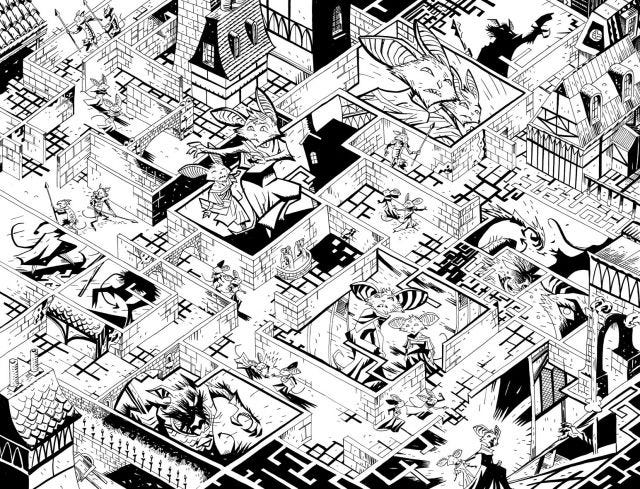 AND THAT'S ALL, FRIENDS!

Maybe this newsletter has been lacking in images? Let's compensate with a Batman Beyond commission.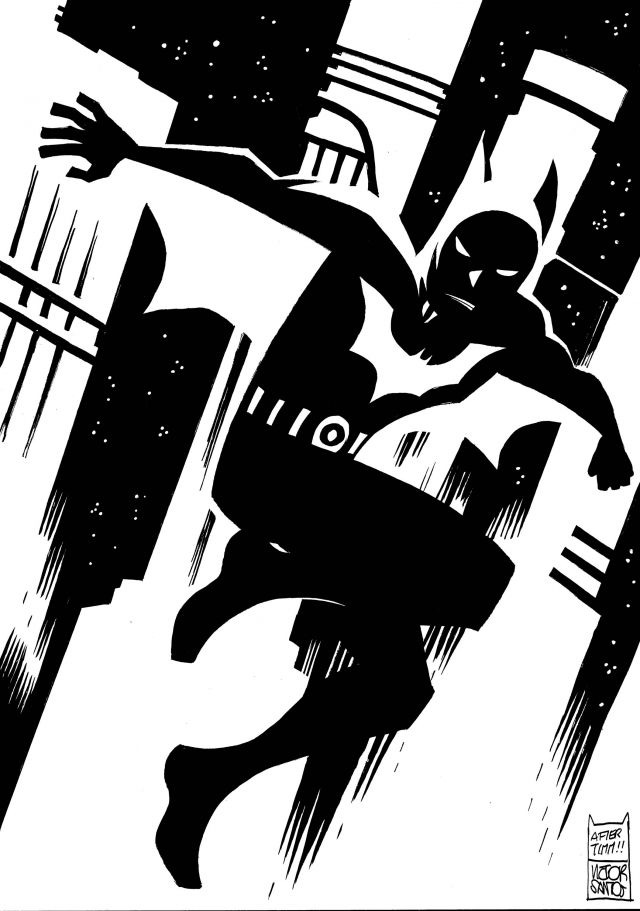 See you soon!
Victor
 
---
Copyright © 2020 Victor Santos. All rights reserved.

FIND ME IN MY SOCIAL NETWORK:
victorsantoscomics.com
My official Facebook page and my personal Facebook page
My Twitter / My Instagram /  My Tumblr
The BROKEN ENGLISH archives

FREE WEBCOMICS!
http://www.polarcomic.com/

FIND MY STUFF
My Amazon page /  My Random House page

ORIGINAL ART:
BigCartel store
Galerie Glénat (Paris)
Soming art (USA)