Discover more from BROKEN ENGLISH Victor Santos' Newsletter
I write and draw stories, and write about making stories
My apologies, mr. Shakespeare

---

Welcome to my newsletter! Maybe the first step is a little presentation. Most of you know my work , but we storytellers search for new audience every day. Or we should. I write and draw comics, sometimes alone (Polar, Rashomon), sometimes I draw the others´script (Filthy Rich with Brian Azzarello, Violent Love with Frank Barbiere, The Mice Templar with Bryan Glass and Mike Oeming, Bad Girls with Alex de Campi) and sometimes I write for others (Infinity Outrage with Kenny Ruiz).
Harvey award nominee and New York Times bestselling autor, that looks great in the interviews.
Love the telegraphic prose from noir authors like James Ellroy, Richard Stark and Azzarello (and it´s a great way to avoid grammar mistakes) so don´t expect a baroque prose. Just facts. Like my Polar books, stark is the rule.
And I´ll try to update weekly or once every two weeks. Mondays.


POLAR MOVIE UPDATE

Polar: Came from the cold was optioned by Constatin Films in 2014. Four years later we have a real movie titled simply Polar waiting for its release in 2019. Netflix went into the project as produced this past February. The filming in Canada finished two months later, April 9. Jonas Åkerlund directed. The uber-charismatic Mads Mikkelsen as Black Kaiser, with stars like Katheryn Winnick, Vanessa Hudgens and Matt Lucas.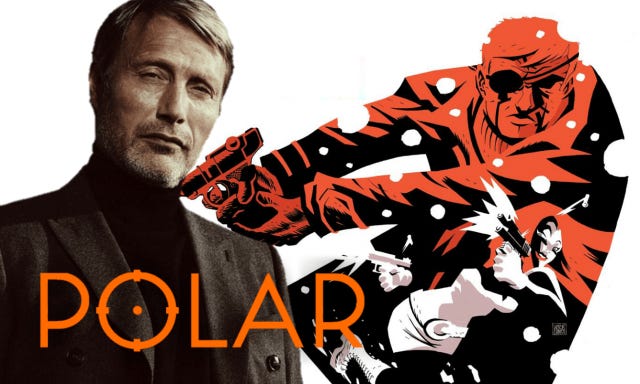 The movie will be released in Netflix in February 2019 (surely) but it will have a theatrical release in Canada, Germany (Constantin is from there) and China (I hope, it´s a giant market). I don´t know dates yet, and I don´t know if that release will be before or after the Netflix premiere.
Last time I asked, past August, the movie is in the editing stage yet. And they are working on the score too. I got cool news about it, I´ll tell things soon, I hope.
Stories to come about the process of adaptation and my thoughts about it in this newsletter.


BAD GIRLS

Reminder: My last book published in US is the original graphic novel Bad Girls, written by the talented Alex de Campi and published by Gallery 13/ Simon & Schuster.
A casino in la Havana. The night of New Year's Eve 1958. A lot of corruption. The president Batista escapes from the country. Castro and Che Guevara at the gates. Chaos. Four women. A lot of money. Problems.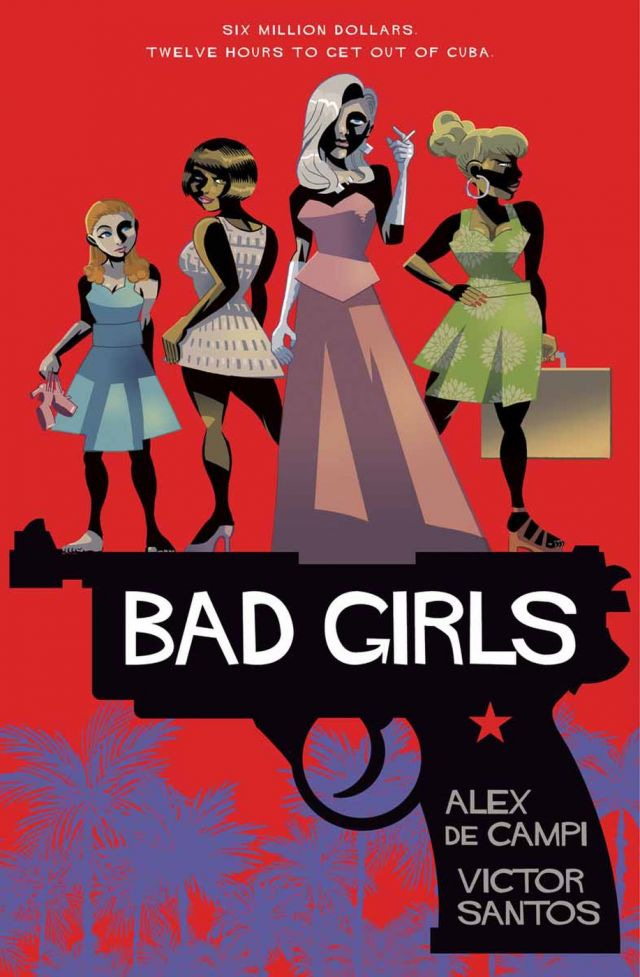 Working for a publisher of bestselling novels was interesting. I told this in a interview to Multiversity:
I agree with Alex, every format has its own charm. Even in these paperback times, I love the simplicity of the 22 pages of a comic-book where you can learn and grow month to month, you can see the art printed before you have finished the complete story. And at the same time the novel format is exciting, working on a book for a long time and then throwing this complete story to the world, readers can enjoy it in a row. One of the reasons I accepted this assignment was testing another field, working in a different way and reaching a new audience.
The complete interview with Alex and me here:
http://www.multiversitycomics.com/interviews/bad-girls-de-campi-santos/


KILLING GIANTS

I watched the adaptation of the Ken Niimuta & Joe Kelly ´s miniseries/GN I Kill Giants, available in the Spanish Netflix. I love how Joe Kelly adapts his own original script and the cast is absolutely perfect. Actress Madison Wolfe simply nails it. I still prefering the book, but this movie is direct, human, humble and honest. Made with the heart.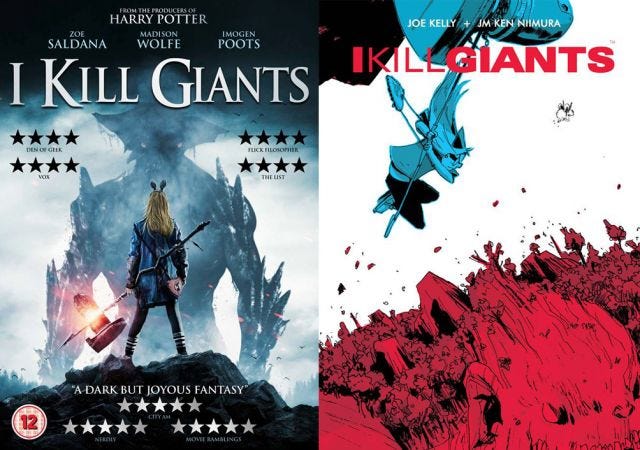 There´s a world outside the Marvel/DC multiplex movie adaptations (even I love some of them). Road to perdition, Ghost World, A story of Violence, Snowpiercer, Scott Pilgrim, Atomic Blonde, Red, Whiteout… were originally graphic novels. A lot of different genres focused on different audiences. Just good self-contained stories without post-credit ads.

No bad for a first newsletter. See you next Monday.
 
---
Copyright © 2018 Victor Santos. All rights reserved.

FIND ME IN MY SOCIAL NETWORK:
victorsantoscomics.com
My official Facebook page and my personal Facebook page
My Twitter / My Instagram /  My Tumblr

FREE WEBCOMICS!
http://www.polarcomic.com/

FIND MY STUFF
My Amazon page /  My Random House page

ORIGINAL ART:
Galerie Glénat (Paris)
Soming art (USA)