Discover more from BROKEN ENGLISH Victor Santos' Newsletter
I write and draw stories, and write about making stories
Mau Mandy

---

WELCOME AGAIN

Music and movies, the best of life along comic-books.

DEADMAU5 IS IN DA HOUSE

I told you I had cool news about the Polar soundtrack. I´m happy to announce that the famous DJ and composer Deadmau5 is scoring the Polar movie. This musician has developed a lot of styles and influences but listening his 2018 disc "Where's the drop?" you can imagine how great can be a score made by him.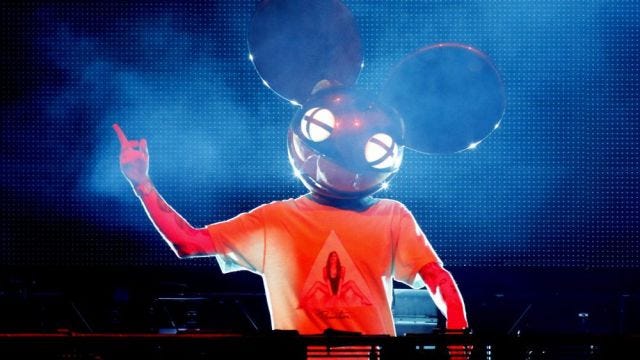 Music media spread The Word, but you can read the news in these two magic places:

ROLLING STONE:
https://www.rollingstone.com/movies/movie-news/deadmau5-to-score-upcoming-film-polar-725734/
 
VARIETY:
https://variety.com/2018/music/news/deadmau5-to-make-film-scoring-debut-with-jonas-akerlunds-polar-1202946846/
 
DEADLINE
https://deadline.com/2018/09/polar-movie-deadmau5-music-jonas-akerlund-mads-mikkelsen-1202468551/

I drew a Deadmau5 Black Kaiser style. Don´t ask me for the original page, it has an owner by divine right.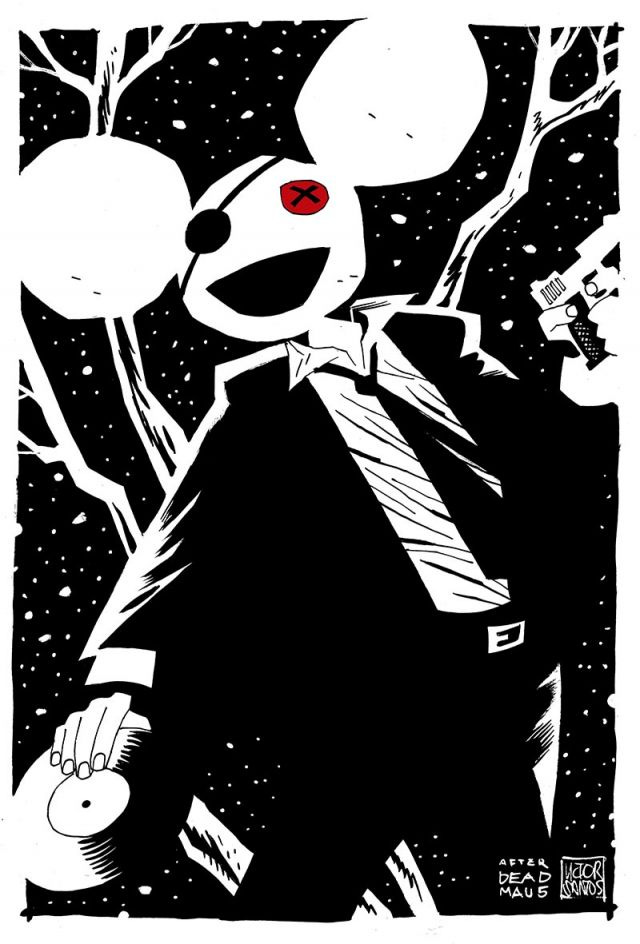 NEW STORE!

Oh, I opened a tictail store. I´ll sell my Inktober pieces there and some other small art pieces. And maybe signed books too. If you want to buy other stuff like Polar (or other series) original pages you must check it in the original art section of my website (Soming art or the Gallery Glenat) or send me a DM/mail.
  https://tictail.com/victorsantoscomics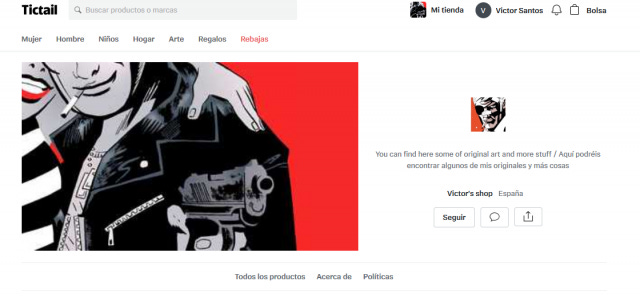 OH, MANDY

I like a lot Nicolas Cage. No irony, no "haha it´s so funny Cage Rage". Hate that Sharknado syndrome: "You must watch this, it´s so crazy". Crappy stuff intentionally done is not fun. I love Nick´s style. Over the top? Yeah, sure. But it´s his way. I enjoyed the visual style and music of first Panos Cosmatos´movie Beyond the Black Rainbow. The story was a mess, but I found daring ideas and a personal approach. Collission of both talents and Aaron Stewart-Ahn (as co-writer) give us Mandy.
Mandy is like David Lynch directing Evil Dead meanwhile is reading 80s Heavy Metal magazines and listening Black Sabbath. Cage has terrific and dramatic moments surely will be transformed into memes, but if you watch them in context… This guy gives us his best and far beyond. It´s not a movie for everyone. Surely is a movie for almost nobody (it´s a good stuff for hipster critics appropriation, always looking for that things EVERYONE hate) but it´s good honest stuff. And again, no-fucking-irony.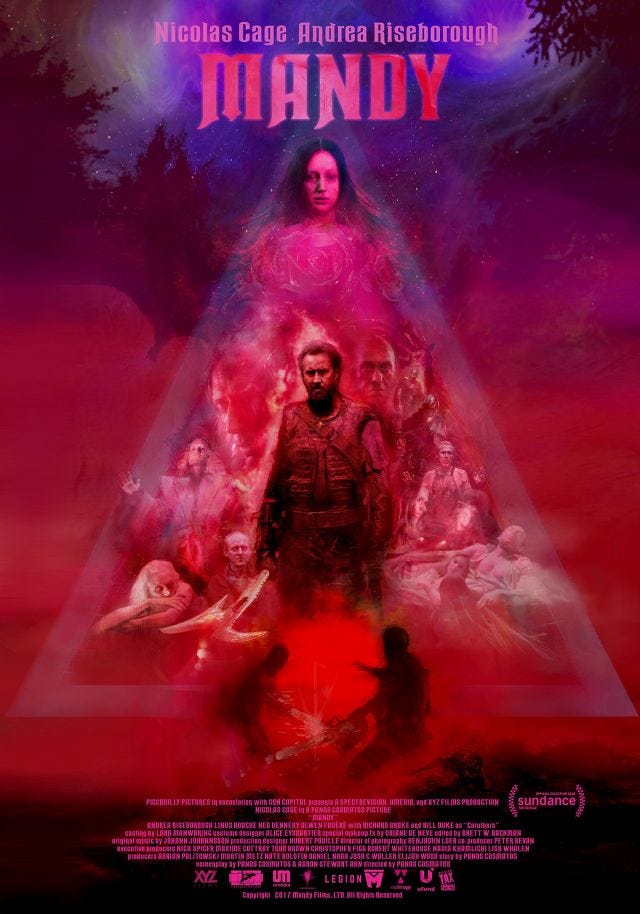 Keep your chainsaw clean!
 
---
Copyright © 2018 Victor Santos. All rights reserved.

FIND ME IN MY SOCIAL NETWORK:
victorsantoscomics.com
My official Facebook page and my personal Facebook page
My Twitter / My Instagram /  My Tumblr
The BROKEN ENGLISH archives

FREE WEBCOMICS!
http://www.polarcomic.com/

FIND MY STUFF
My Amazon page /  My Random House page

ORIGINAL ART:
Galerie Glénat (Paris)
Soming art (USA)
My tictail store