Discover more from BROKEN ENGLISH Victor Santos' Newsletter
I write and draw stories, and write about making stories
King of tributes

---

WELCOME TO A NEW EDITION OF MY NEWSLETTER!

Here we go again! Thank you for following my monthly crazy talk.
Newsletter news: The winner of the raffle for the 50th edition of the newsletter was Francisco Sanchez, from Spain, and he received this original drawing of Nathalie Laertes, main character of my Paranoia killer series. I surely will do more raffles in the future, so be aware and recommend this newsletter to your friends. Sharing is always useful for us, the authors who move between the corporate titans, trying to sell our little comics with big ideas.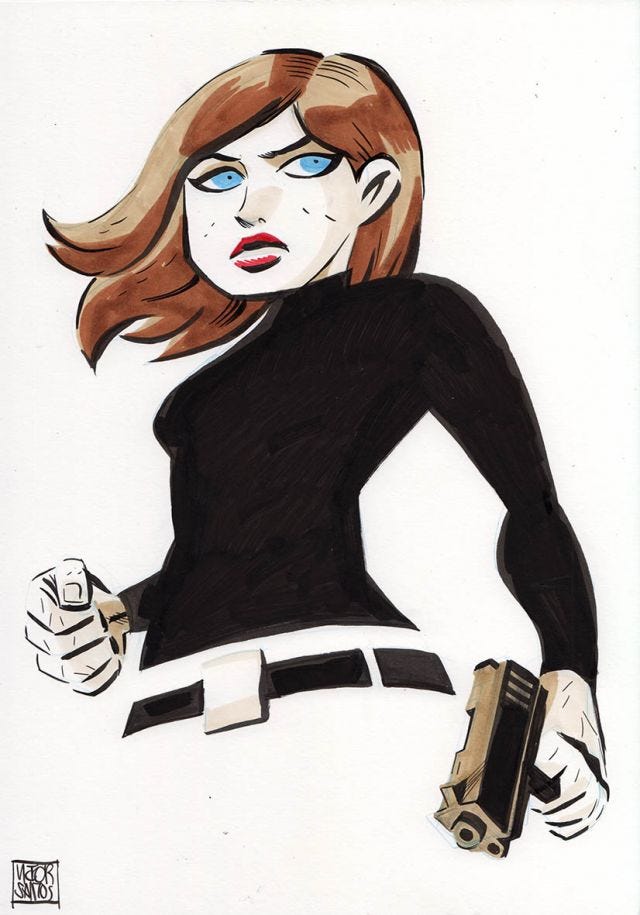 PARANOIA KILLER #3

This week Panel Syndicate will release the third chapter (of four) of Paranoia Killer and I will send you a reminder as soon as the issue is available. Things are gonna be weird, wild and meta in this chapter. A couple of examples below: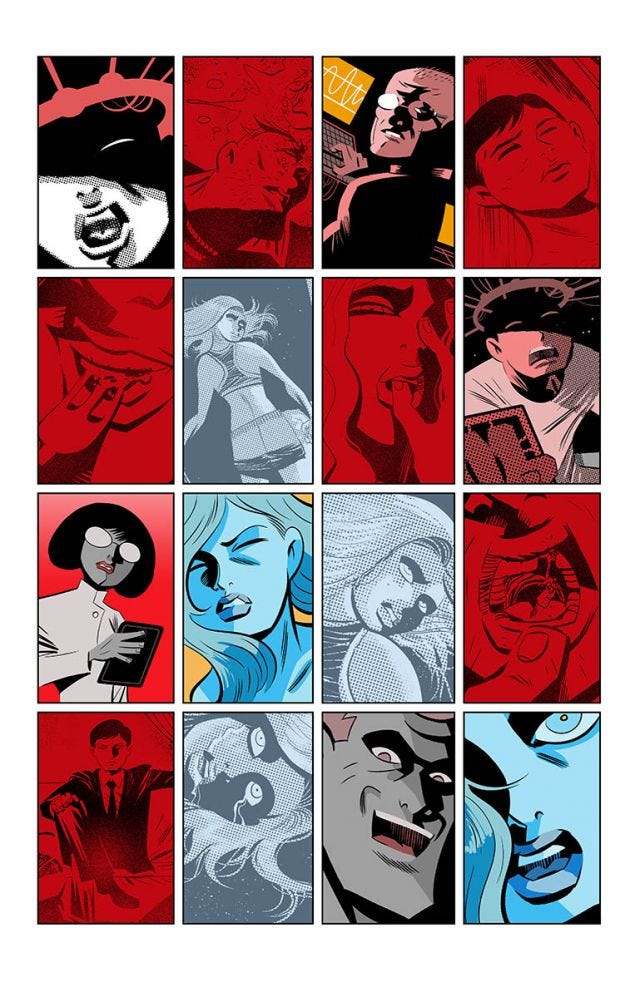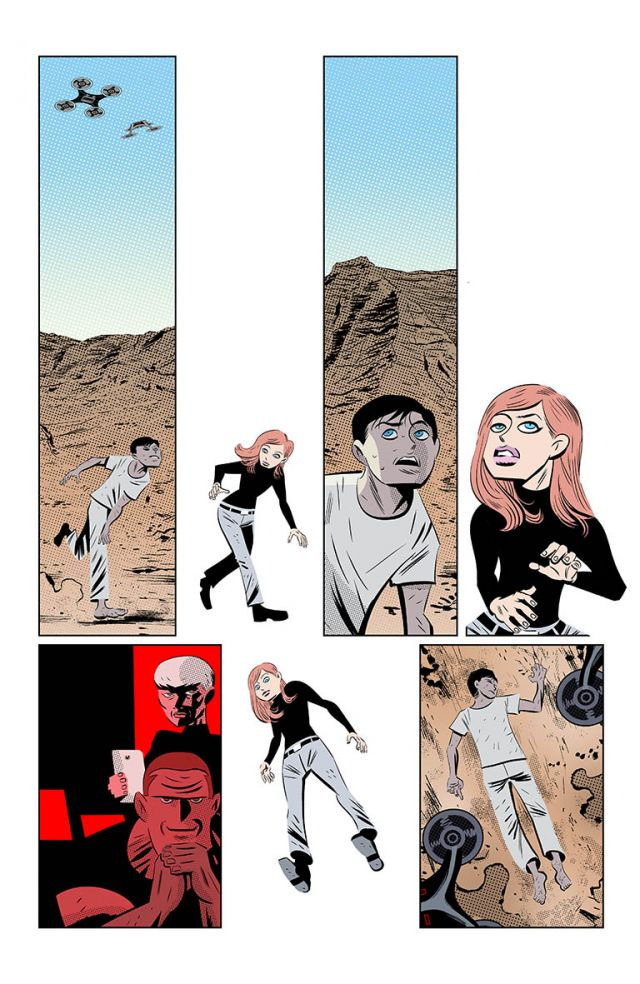 TRIBUTES

All the cartoonists use to introduce jokes (sometimes private jokes, sometimes references to a specific part of the readers) in our books. In the Polar book, with so many characters to kill, one way to make a job funnier is doing this kind of joke.

One example of a joke for a part of the readers: This bunch of goons appearing in the second Polar book, Eye for an eye, are a reference to classical characters for what I could call Spanish Funny pages. The kind of stuff I grew up. They are characters created by Spanish artists like Francisco Ibañez, Vazquez and José Peñarolla during the 40s-50s. The kind of character everybody knows here, like Archie in the US. I was very clear that only the Spanish readers would get the joke (maybe some readers form other European countries too because Mortadelo y Filemón are really popular characters, not only in Spain).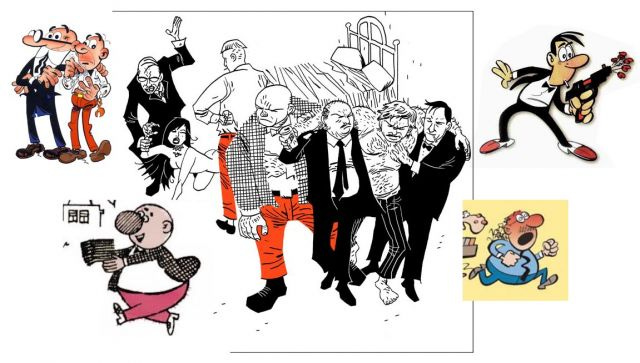 A joke for the manga/anime fans, or rather the Dragon Ball fans. In Polar The Kaiser falls, the latest story of the Polar saga, an old Black Kaiser confronts the Latin gang Los Libertadores. The two girls members of the posse are a latina version of the saiyans Kale and Caulifla from the Dragon Ball Super manga. I think it's funny because Toriyama used to introduce a lot of references and jokes about the Western pop culture like Star Wars, the Universal Monsters or Walt Disney's movies in his books.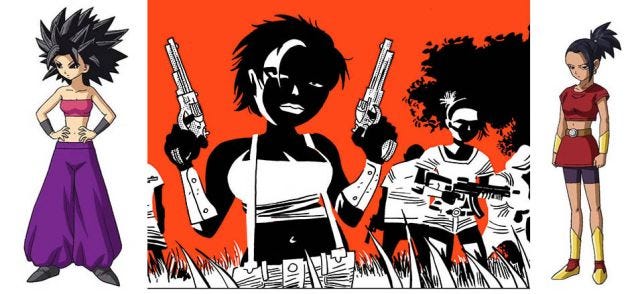 And the leader of the Libertadores gang has similarity with the Mutant Leader of The Dark Knight Returns book. Well, I never hide that this twilight story of my most popular character had a lot of references to this seminal Frank Miller's work.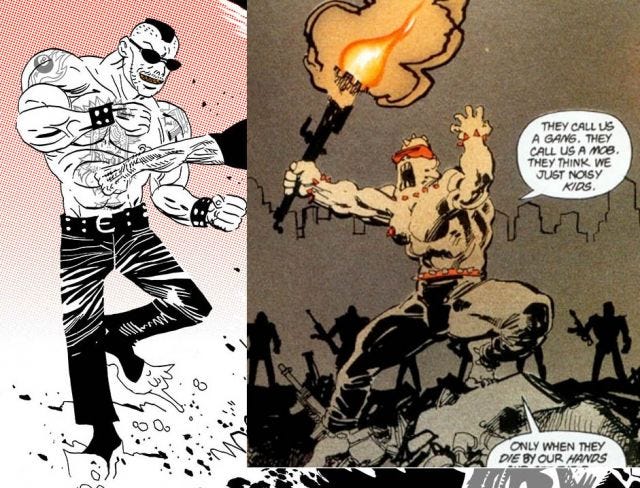 If you feel curiosity for the Polar books, I have a lot links to how to buy them in my website:
https://victorsantoscomics.blogspot.com/p/tiendastore.html

And that's all for this month. See you soon!



Victor
 
---
Copyright © 2021 Victor Santos. All rights reserved.

FIND ME IN MY SOCIAL NETWORK:
victorsantoscomics.com
My official Facebook page and my personal Facebook page
My Twitter / My Instagram /  My Tumblr
The BROKEN ENGLISH archives

FREE WEBCOMICS!
http://www.polarcomic.com/

FIND MY STUFF
My Amazon page /  My Random House page

ORIGINAL ART:
BigCartel store
Galerie Glénat (Paris)
Soming art (USA)