Discover more from BROKEN ENGLISH Victor Santos' Newsletter
I write and draw stories, and write about making stories
Hope Walker is in da house
WELCOME AGAIN!

I hope you begin to see the first glimpses of the light at the end of the tunnel. Meanwhile, fiction helps us in the day-by-day fight.

THOSE THINGS CALLED BOOKS

As I told you in the previous newsletter, I'm going to tell you what stuff I have been reading lately.
I began this confinement reading the volumes 1 and 2 of Philip K. Dick's short stories compilations, and some of his novels like Time out of Joint, The penultimate true and Dr. Bloodmoney. I have been fan of Dick since I read Do Androids Dream of Electric Sheep? long time ago. I read the Dick' stuff in Spanish because the world is enough complex to me. When the confinement and all this Covid-19 craziness began, it seemed the correct choice… Now we are living in the dystopia maybe is not so funny… But at the same time, it helped me to understand some things. But I fear his crazy world less than twitter.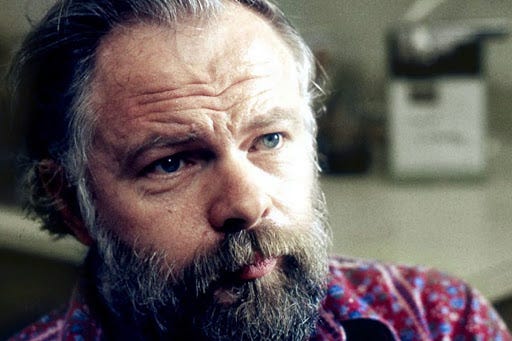 I read some Michael Moorcock's stuff (surely my scifi/fantasy author) because I bought a pile of British softcover omnibus books, and read Travelling to Utopia (a compilation of three of his first novels) and the Kane of Old Mars saga, a funny rip-off of the Edgar Burroughs' John Carter pulp classics.

I always try to read frequently in English and alternate Spanish novels with English novels in my bedside table.
Reading in English using the Kindle now is really easy because I can search for the words I don't understand only clicking them. When I read paperbacks I need the wordreference app in my phone.

I read Duane Swierczynski's Fun & Games in Kindle, the first volume of the Charlie Hardie trilogy. I had read one of his books time ago, The Wheelman. Note: I don't know why I feel attracted  by movies and books with names like Drive, the Driver, The Drive because I don't own a driver license and have zero interest for cars (except old 50s machines like Cadillac and Chevrolet cars because I love their aesthetics).
I enjoyed the fast-pacing action of Fun & Games and purchased his other two books of the series and more of his books, like Canary, in the kindle store. And it's funny because I have not read any of his comic-books series (mistake I hope to fix soon).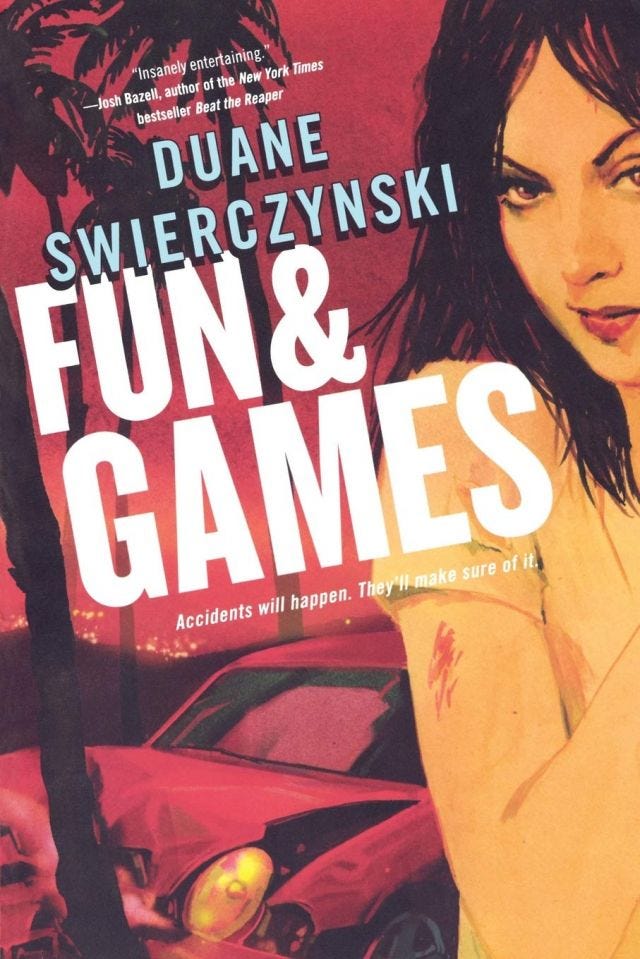 Some comic-books and graphic novels from the "Pending Pile" I attacked lately: The Doom Patrol 12 issues by Gerard Way and Nick Derrington, the second paperback of Andrew MacClean's Heap-Lopper, the books 9 and 10 of the French manga Lastman. I began to read again Naoki Urasawa's Pluto and some of my favourite Will Eisner's The Spirit stories. More: Fist of the North Star manga volumes 3 and 4, The Dark Knight: The Golden Child… and a lot of stuff I can't remember right now.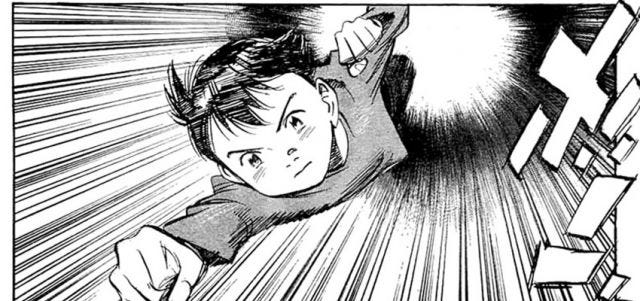 AGAINST HOPE ON SALE

This next Wednesday my latest graphic novel with Dark Horse is officially on sale.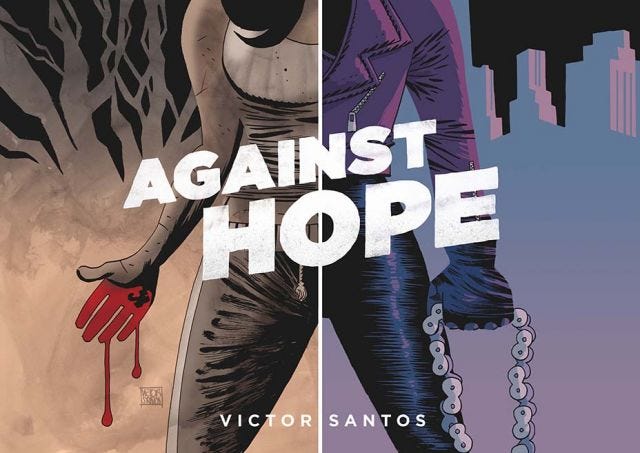 The synopsis:

It has been years since an insane family of neo-nazis almost killed Hope Walker and murdered her boyfriend. Now she is tracking them down and exacting her bloody revenge.
Trained by her father in martial combat, Hope grew from an angry and grieving teenage girl into a cold-hearted bounty hunter. When she discovers the family who brutalized her is now running for public office and controlling a cabal of violent white nationalists from the shadows, Hope gears up and hits the road with the intent to slaughter every single Nazi that stands against Hope. 
Victor Santos (Polar--now a hit Netflix movie) writes and draws a new story with brutal fight scenes and impactful revelations that echo across decades of the main characters life.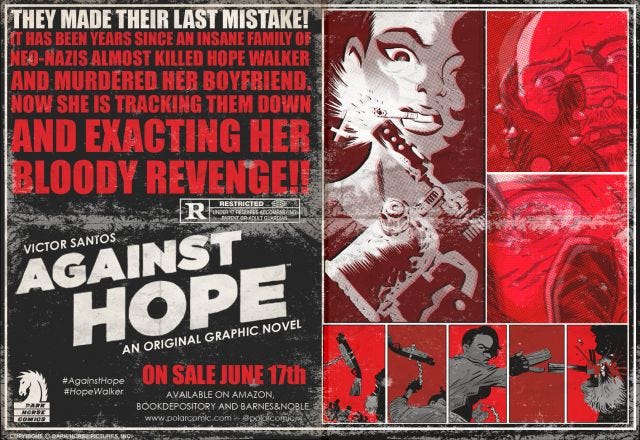 As you can read, this book tries to be a grindhouse/adventure story but I feel a little bad due to the recent events in the USA, like if I was taking advantage of a tragedy… But I must say this is a long-term planned project. The seed of this book was a story initially titled Guts and it was released in my webcomic site polarcomic in February 10th of 2017, with some recent events of racism and riots in the news. Even then, I checked with fellow artist if I should cancel that release.
But maybe the problem is this kind of problems never end… And it's sad and frustrating. I don't know if this is the correct timing or not. Or maybe it's always a good time to remember to the people that Nazis are scum. I simply wanted to create a different hero from the Black Kaiser of Polar. Not a legend, not a super-agent. A young girl who survives, fights, falls and raises and fights again, and becomes a legend. Showing the process instead of the hero at the peak.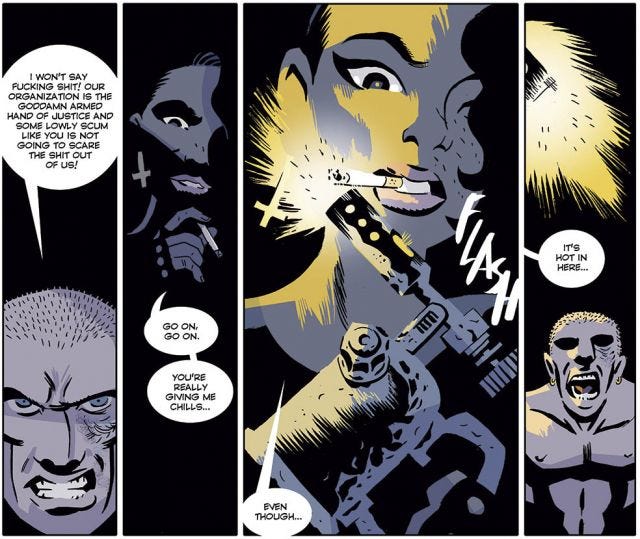 If you are journalist, podcaster, whatever... and have a sincere interest on reviewing Against Hope, I have a digital press copy produced by Dark Horse. Write me to victorsantoscontact@gmail.com

Some interesting links about Against Hope:

Exclusive preview in Forbes:
https://www.forbes.com/sites/joshweiss/2020/04/01/against-hope-victor-santos-dark-horse-exclusive/#24e7cf5488cd
Review in The Comicon:
http://www.comicon.com/2020/06/09/gritty-grindhouse-at-its-best-against-hope-reviewed/?fbclid=IwAR2z9tKHUJiM-7bwsHite-4iMK3sEybkFDCtIGNYKrhXDmAsdhwxL_bY62k
Interview in The Comicon podcast:
https://www.comicon.com/2020/02/13/listen-to-my-art-podcast-ep-25-victor-santos-on-against-hope/
Interview in DoomRocket:
https://doomrocket.com/10-things-victor-santos-and-against-hope/
Interview in Rogues Portal about Against Hope:
https://www.roguesportal.com/interview-victor-santos-talks-about-his-upcoming-graphic-novel-against-hope/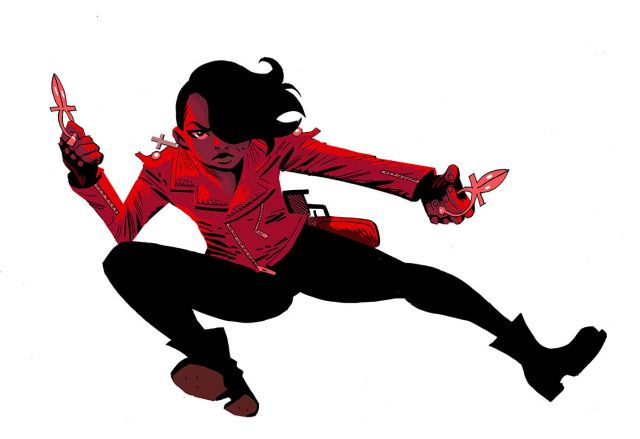 NEW CALENDAR OF RELEASES

Due to the Covid-19 and the confinement the calendar of releases was modified. The publishers begin to rebuild their plans for the rest of the year. I have some dates here:

MAY
Spain: Intachable (Irreproachable) softcover new print of my 2012 graphic novel. Panini Spain.

JUNE
USA: Against Hope GN, 16th in bookstores and 17th in comic-book stores (only a week delay of the original release date).

JULY
Spain: Polar 0 The Black Kaiser, Norma editorial
Spain: Kurosawa el samurái caído (Kurosawa, the fallen samurai).Norma editorial

Meanwhile the Spanish edition of Sukeban Turbo by Norma editorial will be delayed to the end of the year. Not sure about the destiny of Ezequiel Himes: Zombie Hunter published by Amigo comics in USA (with an Italian edition in process) but I will figure out.



I'll keep you informed! Stay safe and healthy!
Victor
 
---
Copyright © 2020 Victor Santos. All rights reserved.

FIND ME IN MY SOCIAL NETWORK:
victorsantoscomics.com
My official Facebook page and my personal Facebook page
My Twitter / My Instagram /  My Tumblr
The BROKEN ENGLISH archives

FREE WEBCOMICS!
http://www.polarcomic.com/

FIND MY STUFF
My Amazon page /  My Random House page

ORIGINAL ART:
BigCartel store
Galerie Glénat (Paris)
Soming art (USA)