Discover more from BROKEN ENGLISH Victor Santos' Newsletter
I write and draw stories, and write about making stories
Beyond Infinity

---

HERE WE GO AGAIN

Some news and stuff I´m working on.
 
INFINITY POSSIBILITIES

One of my favorite assignments as writer was the Infinity: Outrage manga book I wrote for the artist Kenny Ruiz. It adapts the wargame Corvus Belli Infinity to panels. So you can read it if you´re a fan of this awesome game or if simply you want enjoy a good story without previous knowledge about this universe. Pure sci-fi and action in a self-contained story. If you like TV shows like Cowboy Bebop, Firefly or The Expanse you definitely will enjoy it.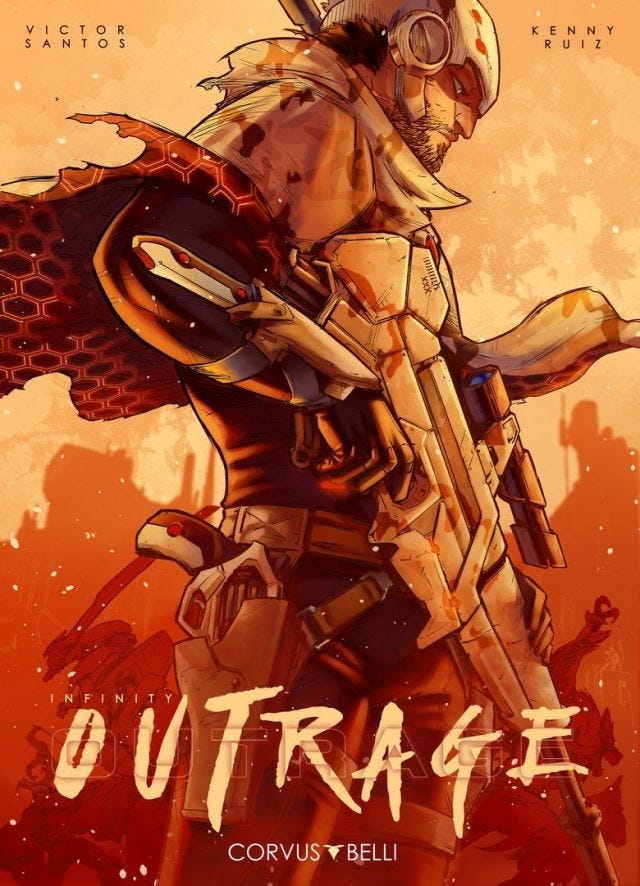 Corvus Belli used their own means to sell the book over the world in two editions, Spanish and English. Sadly we didn´t get a distribution by Diamond in the US. Today I don´t understand the reason they gave us. Something like "A manga made by western guys is weird". Anyway, you can get it in two editions, normal and special with a figure of the main character (if you are fan of the game) using online stores like Amazon.
  (A cool trailer of the book made by the Corvus Belli people)
https://www.youtube.com/watch?v=RRb23Z7W01E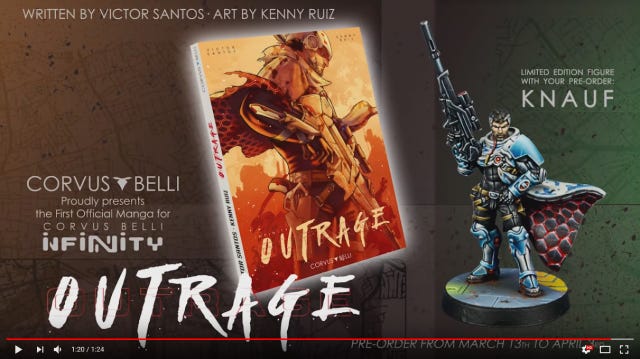 The chance to return to this universe stills open. I have been chatting with the people of Corvus Belli and I have some concepts I would love to develop. Kenny is working hard in the comics french market so it would be necessery another artist. And finding a replacement of a so talented guy is hard.
My two rules for this new book would be:
-A new independent self contained story. A new artist needs space without the ballast of a previous story. Maybe even a different format, suited to the needs of the new approach.
-I want to develop ideas or worlds I hadn´t the chance in the previous book. Focus the story on other part of the big Infinity universe.
I´ll keep you informed about it.


INKTOBER 2018
 
This year I´m going to do the #Inktober again, one inked drawing every day until the end of the month. Like the past years, my rule is not spending more than 30 minutes in a 21x29,7 cm (8,3x11,7 inches) bristol sheet. A funny relief after a hard work day. 
2017 theme was the 100th birthday of Jack Kirby. This year is going to be a thematic edition too. Sadly, we lost Steve Ditko in 2018, so every day will be a tribute to a Ditko´s creation. With no criterion about popularity or relevance of the characters.

I´ll sell these drawings through my new ticktail store: https://tictail.com/victorsantoscomics
 
Don´t ask me if I´m going to draw this character or that another one, I don´t know! I have no idea, just I´ll follow the feeling of the day. No reservations, sorry, I´ll upload ever drawing just when I finish it.
(last year I used Facebook and DMs but my October/November schedule is going to be really complicated to me. Ticktail store makes things easier to me)
The demand is always awesome (thank you so much!), I´ll try to manage it the best I can.

Welcome to the #Ditktober

More next week!
 
---
Copyright © 2018 Victor Santos. All rights reserved.

FIND ME IN MY SOCIAL NETWORK:
victorsantoscomics.com
My official Facebook page and my personal Facebook page
My Twitter / My Instagram /  My Tumblr
The BROKEN ENGLISH archives

FREE WEBCOMICS!
http://www.polarcomic.com/

FIND MY STUFF
My Amazon page /  My Random House page

ORIGINAL ART:
Galerie Glénat (Paris)
Soming art (USA)
My tictail store